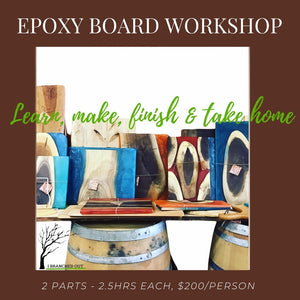 IBranchedOut
WORKSHOP - Make your own Epoxy Board (Part 1 & Part 2 - date TBD)
Regular price
$200.00
$0.00
Unit price
per
Create you own solid epoxy charcuterie board to take home.  We provide all the supplies and tools required to complete your masterpiece, all you need to do is show up and do the work! In session 1, you will prep and prepare the precursors wood, mix and pour your epoxy and tend to to it during the initial stages.  In session 2, you sand and finish board to take home!   You will learn some new skills, go home with a sense of accomplishment and, pride every time you look at your beautiful board! Get a group of friends together for a fun night out!

Maximum group size is 4. If the dates listed do not work for your group, please contact us at ryan@ibranchedout.com to make arrangements and we will do our best to accommodate you.  

Please note that this is. 2 part workshop, totaling approx. 3.0 hrs depending on your skill level.   The sessions a scheduled a week apart to allow for the board thoroughly dry.  
EXAMPLE: SESSION 1 - Nov. 30 at 10:00am , SESSION 2 - Dec. 7 at 10:00am. 

DATE TO BE DETERMINED when enough participants have registered, we require a minimum of 2 people per class and maximin of 4.  
Also please remember that you will be in our workshop so closed toed shoes are required, as well as clothing that you can get dirty.  Currently, proof of vaccination is required to participate. 
Have fun! 
---